The Faculty of Education offers not only didactic courses, but also an opportunity to participate in student research projects, which is a chance for students to develop their potential. There are a few student research groups operating in the fields of art education, intercultural animation, European cooperation, photography, sexology, as well as games and activities. student life is enlivened by the diversity of university projects and events, such as art festivals, concerts, numerous painting and photograph exhibitions, annual student festivals (juwenalia). 
When studying in Warsaw, one can also participate in a wide variety of cultural events offered by the capital, which is a city of contrasts. It is worthwhile to discover the city's extraordinary history and experience its unique atmosphere.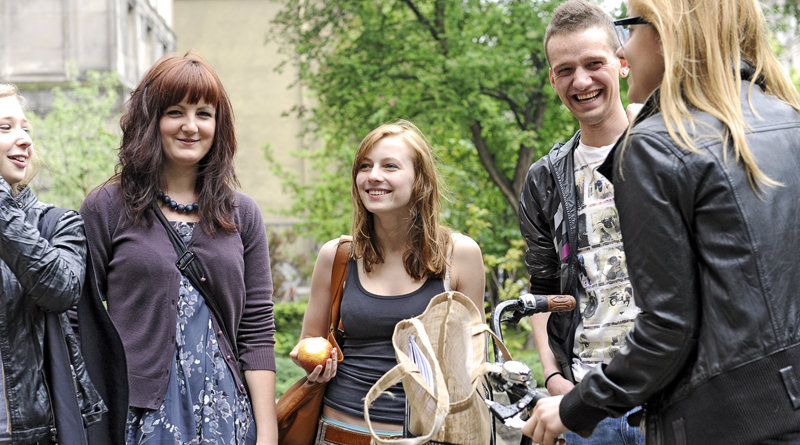 WHAT STUDENTS SAY
Belinda, Erasmus student (from the Netherlands)
I have always been interested in East European countries. Before I came here to study as an Erasmus student, I had been to Poland for holidays in the mountains and I wanted to learn more about this country – its culture, policy and educational system. I was surprised by how much this country has changed and that Warsaw is a modern and highly developed city. The courses are run in small groups here at the Faculty of Education and the communication with the teachers is informal, which I really like. I think everybody should come here because it is a really great experience to be in Poland.
Rebeca, Erasmus student (from Spain)
Although the faculty itself is quite similar to my original one, the subjects as well, there is something magical here. I would say there is something positive in the air, the atmosphere is great! and what's more, Warsaw is really worth seeing. It is a beautiful city with great history and people.
Ula, MA student (from Poland)
Thanks to the studies I obtained the knowledge on working with people. They supplied me with new tools and expertise helpful in working with children and families. I also gained experience in international cooperation, co-organising programmes with students of social work and socio-cultural animation from Germany, Belgium and the Netherlands. I became interested in using mediation as an effective tool for resolving conflicts. I completed a training course to take up the profession of a family mediator and I was a trainee in one of Warsaw's mediation centres.
Sandra, BA student (from Poland)
These are studies for active and mobile people who have a lot of enthusiasm, energy and willingness to work. Studying here allows you to learn the problems and methods of working with other people, not only from the theoretical, but also practical side, for example during student training or workshops. It is this field of study that puts great emphasis on experience. Training that runs parallel to classes allows for action, reviewing and confronting the knowledge gained in class with reality. It may be held at many different institutions so that everyone can choose their work according to their own interests and expectations.
Katarzyna, MA student (from Poland)
One of the greatest strengths of our faculty is an exceptional atmosphere, incomparable to any other faculty. The very field of study points to a certain profile of people who study here. I think they are very valuable and decent.
Roger, BA student (from Poland)
The faculty offers a wide choice of specialisations, each of which is attractive for all students who know what they want to do in life. There is a good atmosphere here, and also good relations between the academic staff and the students.
Magda, BA student (from Poland)
It is worth studying here because the atmosphere is really pleasant, the teachers are nice, the people are great, and after completing the studies one will find many job opportunities and can work in many professions.
Maciej, BA student (from Poland)
The faculty provides a comprehensive knowledge about the human sciences. This is a very interesting field of study and creates many opportunities – whether it be child or adult education or, for instance, social and cultural animation.
Patrycja, MA student (from Poland)
I can only speak in superlatives about the faculty. It has a very warm, almost a family atmosphere. All classes are worth recommending. Once I wanted to study psychology, but I don't regret taking up education studies. Psychology is also very well taught here. There are many very good teachers here who are well-known even outside the Faculty, and who will certainly prepare us well for a future profession. The Faculty of Education graduates are sought-after by employers and may find employment in various niches in the job market, for example pedagogy experts are sought to work as mediators.
Iza, a MA student (from Poland)
For me, the greatest advantage of this department  is the possibility of direct contact with professors, doctors, and representatives of Polish science who are authority figures for me. It is very good that we can meet such educated people who want to share their knowledge with us.
Tomasz, MA student (from Poland)
The atmosphere here is the key to the success of this faculty. Tutors help students, and it also happens that students help teachers. Instead of subordination, there is collaboration. There aren't any unpopular lecturers, the staff working here are open and great.